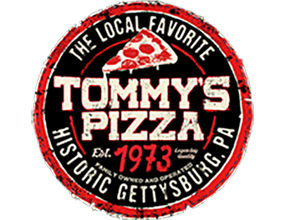 Since 1973

A Historic Pizza & Craft Beer Destination

CRAFT BEER

Gettysburg's largest selection of craft beer for dine-in and take out



See What's On Tap

REAL PIZZA

Classic Greek-Style Pizza

View Our Menu

WE ARE FAMILY

Family Owned and Operated Since 1973
About Us
Tommy's Pizza was founded in June of 1973, by Greek immigrant, Thomas Kranias and his wife, Nancy (Heller). Tommy was born in the northern mountains of Greece, in September 1930, to Sophia and Hristos Kranias. He grew up in a family which included three younger siblings. The family lived a meager life on the land of a small farm where they raised chickens and goats, and grew their own crops for food.

Tommy's uncle, Ernest Kranias, had immigrated to the United States years before, and settled in Gettysburg, Pa. Ernest established himself as a restaurateur, owning and operating The Texas Lunch. The successful hot dog shop is still in operation today on Chambersburg Street, operated by Ernest's grandson, Ernie and his wife Linda. During a family visit to Greece in the late 1930's, Uncle Ernie took a liking to nephew Tommy. When Ernie returned to the United States he vowed to bring his nephew to "America, the land of opportunity" in the hopes that Tommy could make a better life here.

Tommy arrived at New York's Ellis Island on November 8, 1951. He was 21 years old, spoke not a word of English, and came with little more than the clothes on his back and the sandals on his feet. Uncle Ernie and Aunt Emily immediately put Tommy to work at the hot dog shop. There, he thrived as a hard worker and made a multitude of friends while learning to speak and write English. In 1955 he met and married Nancy Heller, a local "Biglerville girl". Late in 1955 they had a baby daughter, Catherine and six years later they welcomed son Chris.

In early 1973, Tommy decided to strike out on his own. He rented, and later bought, the former railroad station on North Washington Street which previously operated as a little restaurant called The Whistlestop. In early June of 1973, he opened the doors of Tommy's Pizza which was an instant success. The success of Tommy's Pizza was primarily due to the many friends Tommy came to know during his 19 years working at the Texas Lunch.

In 1983, daughter Cathy joined the business. In 1987, Tommy and Nancy sold the railroad station property to Gettysburg College and purchased the current property located at 105 Steinwehr Avenue. During the years that followed, Cathy's husband joined the business and in 1995 Cathy and Bill purchased Tommy's Pizza.

Son Wade joined the business full-time in 1998 after graduating from Millersville University, with younger son Drew following in early 1999. In Jauary 2017 sons Wade and Drew purchased the business from their parents and pledged to carry on their grandfather's legacy. " We are very proud to be the third generation to continue the traditions set forth by our grandfather and grandmother", says Wade and Drew

Sadly, Tommy passed away very suddenly and unexpectedly on May 30, 1999. There is not a day goes by that we do not think of him- father, grandfather, great-grandfather, and try to honor his memory.
---
About Tommy's Pizza
Tommy's
Promo

Video

Customer Reviews
Our customers are always saying great things, and we really appreciate the feedback. Here's some examples of what our customers have said recently.
DT M.

via Yelp!

It simply doesn't get better. The sauce must have crack or something in it, because it draws you back over and over again. A must visit in Gettysburg.

Caroline C.

via Yelp!

Tommy's is a mom n' pop pizza location in downtown Gettysburg. The inside was clean and all the staff were friendly. The pizza was homemade, and it was awesome. In addition to pizza they also have fresh salads. We tried the Greek salad, tuna salad, and chef salad and they were all excellent. They also have a wide selection of subs. Prices, for a tourist town were very reasonable... We were very happy with our dinner and would definitely come here again if visiting Gettysburg.

Jason S.

via Yelp!

We stumbled into Tommy's one day while traveling through Gettysburg and found a gem! We now visit Tommy's every time we camp in Gettysburg which is 6-8 times per year. This pizza is fantastic! The crust is not too thick, not too thin, but just right. The sauce has that home made flavor so you know it's fresh. They also serve craft beer (growlers available) which is very nice.

Remi S.

via Yelp!

Pizza was very good, even though it wasn't NY style, which is my yardstick against which all pizzas are measures. A large fed two adults and three kids who had a late lunch, if we were very hungry we would have needed two. Good craft beer selection was unexpected and welcome! Reasonable prices.
---
Destination Gettysburg
Cooking with a
Gettysburg

Chef

Wade & Drew

Contact Us
Ask a question, make a suggestion or just let us know how we're doing. We appreciate the feedback and value your opinion.
---